CAST/CREW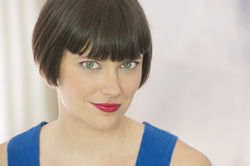 Kelly Wallace-Barnhill (Writer/Producer/Actor)

Kelly hails from Cooper City, Florida, where at a young age she began performing inappropriate material (i.e. poop jokes) for her parents and their friends at dinner parties. She attended Florida Atlantic University, where she received a BA in Theatre Performance.  In New York, Kelly studied with master acting teacher Polina Klimovitzkaya at Michael Howard Studios and at Upright Citizens Brigade Theatre, where she met her comedy and heterosexual life partner Lindsey. Kelly and Lindsey have written, produced, and starred in numerous plays, sketch shows and have performed at festivals in New York and across the country, including Midtown International Theatre Festival (NYC), Greensboro Fringe Festival, NC Comedy Arts Festival, Emerging Comics Contest (NYC), COMIX NY, The People's Improv Theatre (NYC), Hell Yes Fest (New Orleans), Abington Theatre (NYC) and Upright Citizen's Brigade (NYC). Kelly is the co-star and co-writer of the original web series, Kelly & Lindsey Do New York. (episodes can be seen at kellyandlindsey.com) The series has been accepted to many festivals including Indie Fest, IFQ Fest (LA), and LAWebfest, and has won several awards including the Award of Merit in Indie Fest. IMDB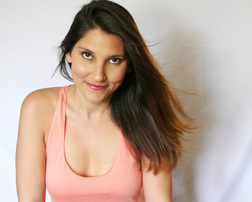 ​Lindsey Gentile (Writer/Producer/Actor)

Lindsey is an actor, writer, and producer currently based out of Los Angeles.  A few years ago, while living in NYC, she met Kelly at the Upright Citizens Brigade improv class and they hit the ground running.  Kelly and Lindsey have a 45 minute and a 25 minute sketch comedy show that they have performed all over the US at various comedy and fringe festivals.  They also produced a web series called Kelly and Lindsey Do New York which can be seen at www.kellyandlindsey.com.  The series has been accepted into several film festivals and has won many awards.  Lindsey has written for BUST magazine, IWIDK.com, askanewyorker.com and she has her own blog, bigcitysiren.com. Please go to lindseygentile.com for more info. IMDB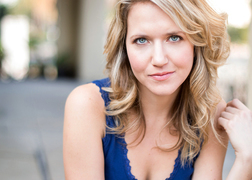 Natasha Charles Parker (Writer/Producer/Actor)

Natasha has worked consistently in film, television, voiceovers and theatre for the past ten years in New York and Los Angeles.  She was most recently seen onstage in Cold Sweat at the Atwater Village Theatre and in the Best of Fringe 2013 show The Baby at the Lex Theatre in Hollywood.  Previously, she played the legendary Linda Lovelace in The Deep Throat Sex Scandal at the Zephyr Theatre.  Natasha can be seen in the upcoming feature film, Promoted, alongside Sam Levine and Estelle Harris and can be seen in films such as Carver and The Ascension starring Corbin Bernsen.  In addition, Natasha has been seen in Love Struck at the Beverly Hills playhouse alongside Emmy winner, Barbara Bain, in NYC Theatre alongside Emmy winner, Joan Darling, and Off-Broadway in the New York Times acclaimed World Premiere of WASPs in Bed at the Beckett Theatre.  In the commercial world, Natasha has done numerous voiceovers for television and radio.  You may have also heard one of her various voices in cartoons such as Pokemon and Winx Club.  Natasha graduated with a B.A. in Film and Theatre from the University of North Carolina at Wilmington.  When she isn't acting, Natasha is happy to put on her writer/producer hat and has created projects for Funny or Die including the Britney Spears Perfume Parody and a PSA for Obama for America, which made the top 20 in the 2009 Healthcare Reform Video Challenge.  She also runs her businesses ShopNYC Tours and NYC Kids Tours and sells real estate.  IMDB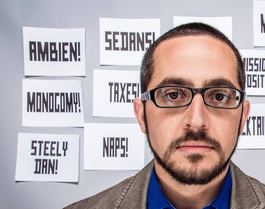 Shawn DePasquale (Writer/Director)

Shawn fights for what's right and always takes his vitamins. He writes TV and movies. He also has written graphic novels.  Currently he writes the comic series "Galaxys For Hire", and hosts a podcast called Cabin Boyz. Read his comic here: www.tinyurl.com/ReadGalaxysForHire  -OR - Listen to his podcast: www.tinyurl.com/BoyzTunes
Corey Moosa (Producer) 

Corey has been in the world of theater, film, and television all his life. He attended the magnet program at Dillard School Of The Arts in Ft. Lauderdale, Florida for high school. He went on to attend Carnegie Mellon University School Of Drama, where he received a BFA in 2000. Upon graduation, Corey headed to New York City where he established himself in the downtown theater community. In 2000, Corey co-founded a theatre company called The Immediate Theatre, through which he produced dozens of new plays. Voted "Best Theater Company" by the New York press in 2005, The Immediate Theater Company has become one of the most innovative and successful young theaters in New York. Corey also worked for seven years at the critically acclaimed HERE Arts Center as their director of finance. During his time at HERE, he was responsible for overseeing hundreds of productions. Corey worked on the acclaimed short film Chinese Dream, which played at film festivals all over the world. In the summer of 2007, he moved to Los Angeles to focus on film and television. Being a lifelong fan of Star Trek, he was thrilled to hear that his longtime college friend Zachary Quinto had been cast as Mr. Spock in J.J. Abrams reboot of the Star Trek franchise. Corey worked with Zachary on his research and preparation for the role of Spock. In 2008 he and Quinto teamed up with other longtime friend Neal Dodson to form their production company Before The Door Pictures, which is developing and producing in new media, television, film, and the graphic novel arena. With Before the Door Pictures, Corey has produced the film MARGIN CALL, which won him the 2012 Spirit Award for Best First Feature. He has also won awards for Scariest Film at both Toronto After Dark and London's FrightFest for producing the horror film, BANSHEE CHAPTER. Corey has been featured in "Details Magazine" as part of their 2012 "Mavericks" issue. He was also named on the "10 Producers Who Will Change Hollywood" list by The Wrap. Corey has published two graphic novels with Archaia Studios Press, MR. MURDER IS DEAD and LUCID. In 2013 Corey went on to executive produce the Academy Award nominated film ALL IS LOST starring Robert Redford. In 2014 Corey produced the critically acclaimed documentary series THE CHAIR for STARZ, which he also starred in as a mentor for two first time film directors as he produced their directorial debuts, NOT COOL and HOLLIDAYSBURGH.  He latest producing endeavor , YOU WERE NEVER HERE, staring Sam Shepard and Mireille Enos, recently completed production. 
Rachel Wynn Dunn (Director of Photography)

Rachel Dunn is an award winning cinematographer, photographer and visual effects artist who has contributed to many projects including several classic films.  She started her career as a commercial photographer, doing high level work for an international clientele at the birth of the digital revolution in photography.  She then joined Digital Domain as a VFX artist, there she did pioneering work on many A-list feature films and commercials, in addition to contributing heavily to the design and implementation of Nuke, the in house composting software which has become a fundamental tool for the VFX industry.  Over the past 12 years, Rachel has since built a career as a cinematographer, and has shot many long and short format narratives, commercials and music videos.  The distinctive visual style she has developed, in addition to several decades A-list experience, gives her a highly informed insight into shooting for todays increasingly complex production pipelines, and places her at the cutting edge of the digital cinematography revolution.  ​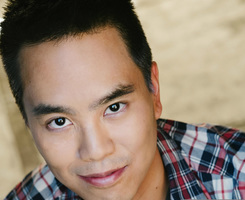 Alex Chu (Director)

Born in Edmonton, Canada, Alex Chu was raised in Tripoli, Libya to an expatriate family and has lived in Hong Kong, Singapore, and various cities in the US and Canada before settling in Los Angeles. As a writer-director, his most recent project was the feature film YES, AND... which won Best Comedy Feature at two festivals in 2014 and is currently in distribution on Amazon and other VOD outlets. Previously, he directed and wrote FORTUNE COOKIE MAGIC TRICKS, a gay zombie martial arts musical mashup that was screened at over twenty festivals worldwide including Outfest Fusion, Frameline, and the San Francisco International Asian American Film Festival. He also wrote and directed the web series office comedy INTERVIEW DON'TS and the Occupy Wall Street themed short THE EQUITY PARTNERS which screened at various film festivals worldwide. His earliest work, the comedy RISE OF THE KITARA and sci-fi musical E.V.E.S. which he wrote and produced, screened at the Vancouver Asian Film Festival as well as on City TV in Canada. Alex is also a SAG-AFTRA actor and voiceover artist who has worked on national commercial and print campaigns, episodic television, industrials, video games and film.

Brian Johnson (Assistant Director)

Originally from a small coastal town in Massachusetts, Brain's been working in the entertainment industry for the past 7 years in both New York and Los Angeles. Credits include Anderson Cooper, Queen Latifah and most recently projects with LogoTV, a Viacom owned network.
Richard Jay (Composer)

Born and raised in New York, Richard took to music at an early age; playing in bands throughout high school, and gigging in Manhattan Rock clubs by the age of 19.  One of his first bands, Gumption Trap, earned the "distinction" of being banned from the legendary CBGB's for raucous stage antics.  After studying both Music and Economics at NYU, Richard worked for several years in a NYC Jungle house, assisting recording sessions and syncing library music (and doing taxes, and fetching lunch).  Guitar on back, Richard spent a year busking across Europe and the Middle East. Under his singer/songwriter alias MOONTAN, Richard has performed several hundred shows: both solo and with the ever evolving Moontan Collective. Shunning the stage since 2008, Moontan has composed/produced music for both television and independent film.  He also scored and composed the theme song for the webseries Kelly and Lindsey Do New York, winning Best Composer in the 2015 LAWebfest.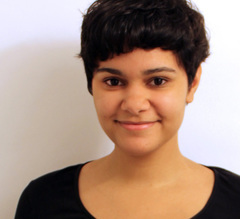 Erica Perez (Animator) 

Born and raised in good ol' Brooklyn, New York, Erica has been in the 2D animation world since 2008, and professionally since 2010. Some projects of note Erica worked on include Ugly Americans (Comedy Central), Sid the Science Kid & The Electric Company (PBS), and Cartoon Network's "MAD". An avid lover of storytelling through visual means, Erica's passion lies in character animation, but on occasion she enjoys the sequential art of storyboarding, and comics. VIMEO